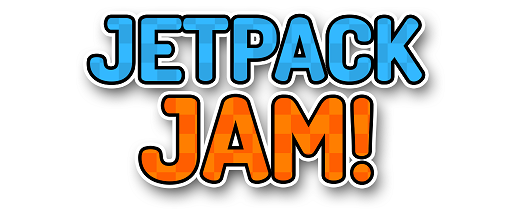 Jetpack Jam
Jetpack Jam is a fun, two-player, competitive, physics-based arcade game. There are two game modes:
King Of The Hill
First player to be the only player on the hill for 30 seconds wins!
Survival
First player to survive 30 rounds wins!
Each time you play a game mode, a random variation of the level is chosen, making each round unique.

Controls

---
Player 1
W - Use Jetpack
A - Roll / Rotate Left
D - Roll / Rotate Right
Player 2
Up Arrow - Use Jetpack
Left Arrow - Roll / Rotate Left
Right Arrow - Roll Rotate Right

General
Enter/Return - Start
P - Pause
R - Restart
H - Return to Home
Credits

---
Dan Sessoms - Design
Nat King - Art
Noah King - Design, Programming
Zack Alkek - Music [zack.website]